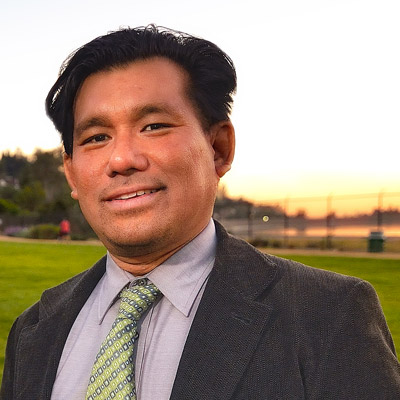 Dear Friends,
It's with great regret that I'm announcing the end of the Elson Trinidad for L.A. City Council 2013 campaign. I did not garner enough signatures at last week's deadline to make the March 5 ballot.
Though I myself had gathered several hundred signatures, my numerous volunteers around the district were only able to gather a small number each, for various reasons, and that's why we fell far short than hoped for.
Ultimately, though there were very welcome signs and circumstances in this race that led me to run, I soon learned that I was ill-prepared for this endeavor at this time.
There is still honor in not winning an election – you still become a choice for people and you've participated in the democratic process. But to fail to make the ballot is an embarassment. I always throught the petition process was to filter out the "nobodies and weirdos." Never did I think I myself would become a "nobody" and a "weirdo."
Starting this week, I will spend some time far, far away from the big city to clear my mind, mend my heart and strengthen my soul. Don't worry, I still have my music, and will spend my time in exile writing and composing. I'll be laying low for a while, but all the better. I'll be back and will continue my dedication to serving my city and community and making it a better place. Giving up is not an option. And if the winds blow the right way one day, I might do this City Council thing again — but I'll be a much stronger, wiser and much better prepared candidate.
Failure is just delayed success.
I'd like to give special thanks to my parents, who taught me the value of community and service, and were my #1 supporters from day one. To my sister and brothers, thanks for your support and getting the word out. To my former teachers, who helped lead me to where I am today, and who also contributed to this campaign, I can't thank you enough. To Patrick Tantraphol, my campaign treasurer, thanks for being available to do this. To everyone who donated to the campaign, I feel like I owe you something, and one day I shall deliver. To my relatives and friends near and far, to my neighbors and fellow community activists, thanks for your hope, encouragement and believing in me.
This particular dream might have died, but a new one will be born.
Best of luck to (most of) the candidates who did make the ballot, and if you live in CD13, support the ones who genuinely understand our diversity, history, issues and have an actual track record of change in our community! Ask them first what they have done for us. Do not be swayed by money. Our communities are more empowered, and use that empowerment to choose the right people who will be our worthy representatives in City Hall!
Have a joyous Holiday season, a very Merry Christmas and a wonderful New Year.
Elson Raymund Garrote Trinidad