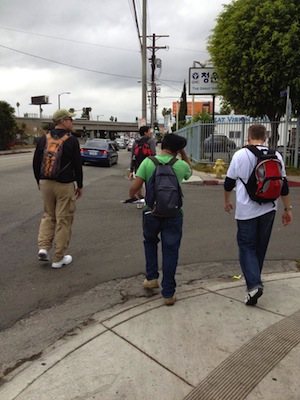 As the '80s song goes, "Nobody Walks In L.A." But on Saturday, a couple hundred determined somebodies did walk in L.A., and for quite a distance.
It was The Great Los Angeles Walk, an annual fun, social event — a pedestrian Critical Mass of sorts — organized by Franklin Avenue blogger and TV Guide writer Michael Schneider, now in its 7th year. The whole point of the walk was to literally walk across town and re-discover a Los Angeles that one normally doesn't see from the confines of a car. It was the kind of event that I've heard of for a long time, but never had the opportunity to do, until now. Crossed that one out on my bucket list…
I started the morning taking a Metro Red Line subway ride to the Civic Center station, then walking the seemingly long, uphill block to Grand Avenue, where a large group of people gathered at the front door of the Walt Disney Concert Hall.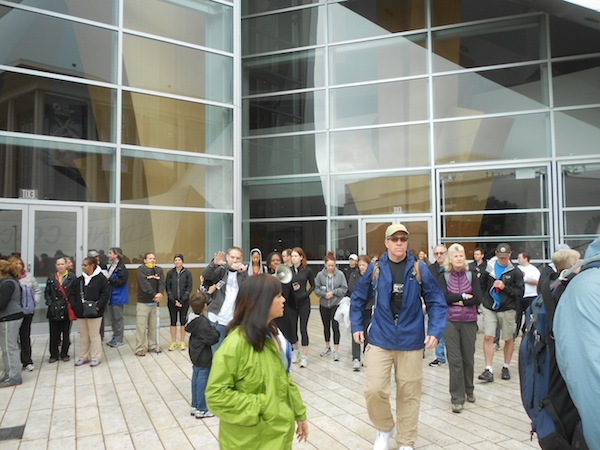 After a couple brief announcements and a group photo, we headed west on 1st Street, then on to CD13 territory on Beverly, then up Virgil to my home environs of East Hollywood, then west on Melrose for most of the rest of the way.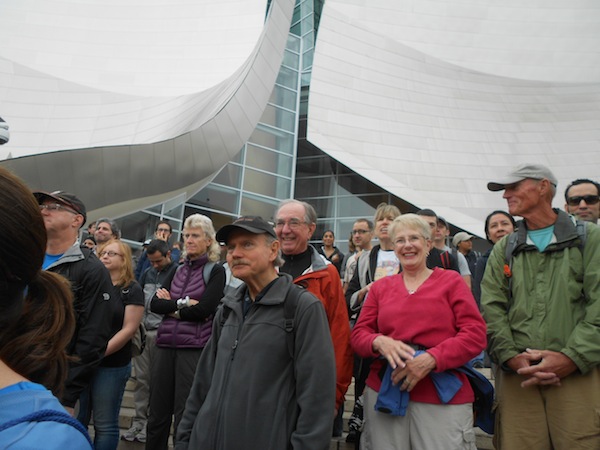 I joined up with my friends Will and Joni for most of the trek, ran into another friend Monk for the Virgil stretch and even met other fellow walkers like Larry from Silver Lake, Rhema all the way from Corona and even Michael Schneider himself.
People were fascinated to see even the most mundane things like holes in the windows in a DWP storage building along 1st Street, visually stunning murals like Eliso Art Silva's Filipino American history mural, the "Twilight Zone" mural on Beverly and a Cache/Eye One "bicycling chickens" mural across the street from it. The walk also exposed the bad and the ugly, such as the blighted trash heaps and urine-stenched pavement under the 101 Freeway above Melrose, a reminder that there's much work to do in the community.
Unfortunately I didn't partake in the 17-mile entirety of the walk, which ended on Ocean Avenue in Santa Monica. I had to attend a community picnic at Lemon Grove Park, which was not very far from the walk route, so I got a chance to get to my activities today –just by walking!
So yes, you can walk in L.A.
Still, my 5.3-mile trek from Downtown to Hollywood enabled me to socialize, enjoy the city, see some things I've never seen before (such as the Jack London house off of Van Ness), see things I wish we didn't have to see, and get to the places I needed to go that day.
Many Angelenos unfortunately have a hindrance to walking, which is purely psychological and socially-reinforced. But once freed from those shackles, walking lends to a wonderful world of discovery and exercise (it's great for the blood pressure). Other hindrances, like uneven pavement and inconveniently narrow sidewalks (Melrose between Normandie and Serrano, I'm looking at you), are things the City needs to address.
But "Nobody Walks In L.A." is already an outdated diatribe. Some of our streets and neighborhoods are getting more pedestrian-friendly, either through design or demand. A walkable Los Angeles is a must for our City's future.
I can't wait to do this again, and next time it'll be in its entirety. Elected councilman or not, I'll definitely be back, and if it's the former, I'll definitely challenge my constituents to join me (I strongly believe elected officials need to set the example) in walking the walk.